The National Information Platform for Food Security and Nutrition (NIPFN) project partnered with the Ministry of Health in the 1st National Maternal, Infant and Young Child Nutrition (MIYCN) Hybrid Symposium held on 29th – 31st March 2022. The symposium brought together key stakeholders in the nutrition sector to share evidence in addressing MIYCN with a focus on complementary feeding from a multi-sectoral perspective.
Kenya has made significant improvement in several nutrition indicators in the last couple of decades. However, suboptimal breastfeeding, childhood and maternal undernutrition and micronutrient deficiencies remain the leading risk factors to mortality and morbidity. In Kenya, three in five (61%) infants are exclusively breastfed while only 22% of children 6-23 months consume the minimum acceptable diet.
NIPFN project represented by Lillian Wambui, Public Health Nutritionist, made a presentation on the drivers of stunting. The figure below shows the relationship between stunting and poverty.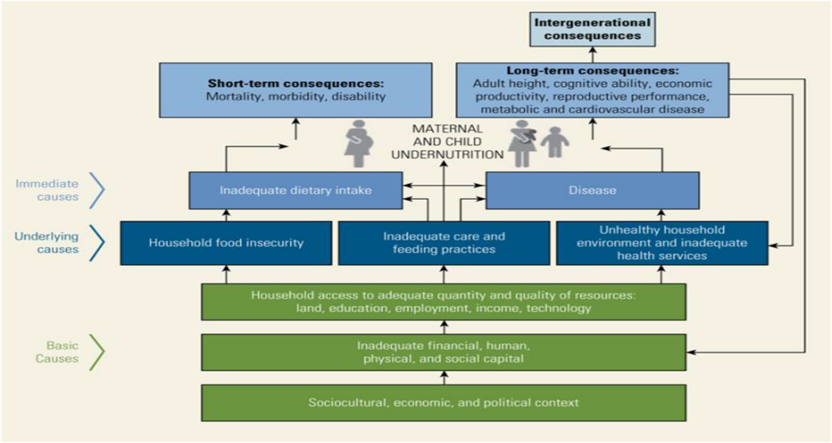 The symposium made several resolutions key among them was:
5. Innovative technologies: With the innovation to service delivery and coordination of different government institutions, it is necessary to adopt innovative data systems that pool information from diverse sectors and provides real time information. We also need to view the same data differently. For instance, through evidence building, we can know indicators from other sectors that are strongly linked to nutrition outcomes such as poverty rates, girl child education and water and sanitation. In this regard, the National Information Platform for Food and Nutrition Security led by the Kenya National Bureau of Statistics and the Kenya Institution of Public Policy Research and Analysis seeks to provide a dashboard to answer to multi-sector nutrition information needs.